Well, well well. Long time, no blog. I'll hopefully start holding myself to a schedule of a post every two weeks. It means more time for research and more time for me to apply for jobs! But, it has been much longer than two weeks since we had a bit of murder and mystery. And, considering it's summer, I think it's time that I bring you back to camp. I, personally, experienced Girl Scout Camp like in the murder I'll be telling you about. And what's a camp experience without some scary stories about how a ghost is going to get you or a murderer hiding in the woods?
Most of the time, you have nothing to worry about.
At Camp Scott in 1977 (June 13th, to be exact), there were signs that everyone should have been worried. They were the little details that normally were the sort of thing you embellished your urban legend with: scary notes, ransacked tents, a dark and stormy night, and one tent just a bit too far out of the way. But this scary story would become a scary reality when Michelle Guse, Lori Farmer, and Denise Milner were found murdered.
Trigger warnings in this story include: child death, rape, mutilation, racism
And while not a trigger, this is just a warning of how terribly heartbreaking this story is.
And this story starts far before any of the campers arrived. The counselors were training and got a brief lesson in strange circumstances.
Before the murders
In addition to possible evidence of someone living in a nearby cave and a burglary at a nearby farm, there had also been an incident prior to the scouts arriving while the counselors were training. Less than two months before the session, a counselor returned to her tent to find it ransacked, her doughnuts stolen, and inside the doughnut box there was an ominous note claiming that three girls were going to be murdered. Because this was the 70s, and the concept that there were just purely bad people who wanted to harm children hadn't really permeated popular culture like it has today, it was treated like a prank. The camp was going in to its 49th season, and nothing like this had happened before, so, as per the horror story narrative, the camp opened anyways. I've included slides of the camp's pamphlet, and everything looks pretty idyllic.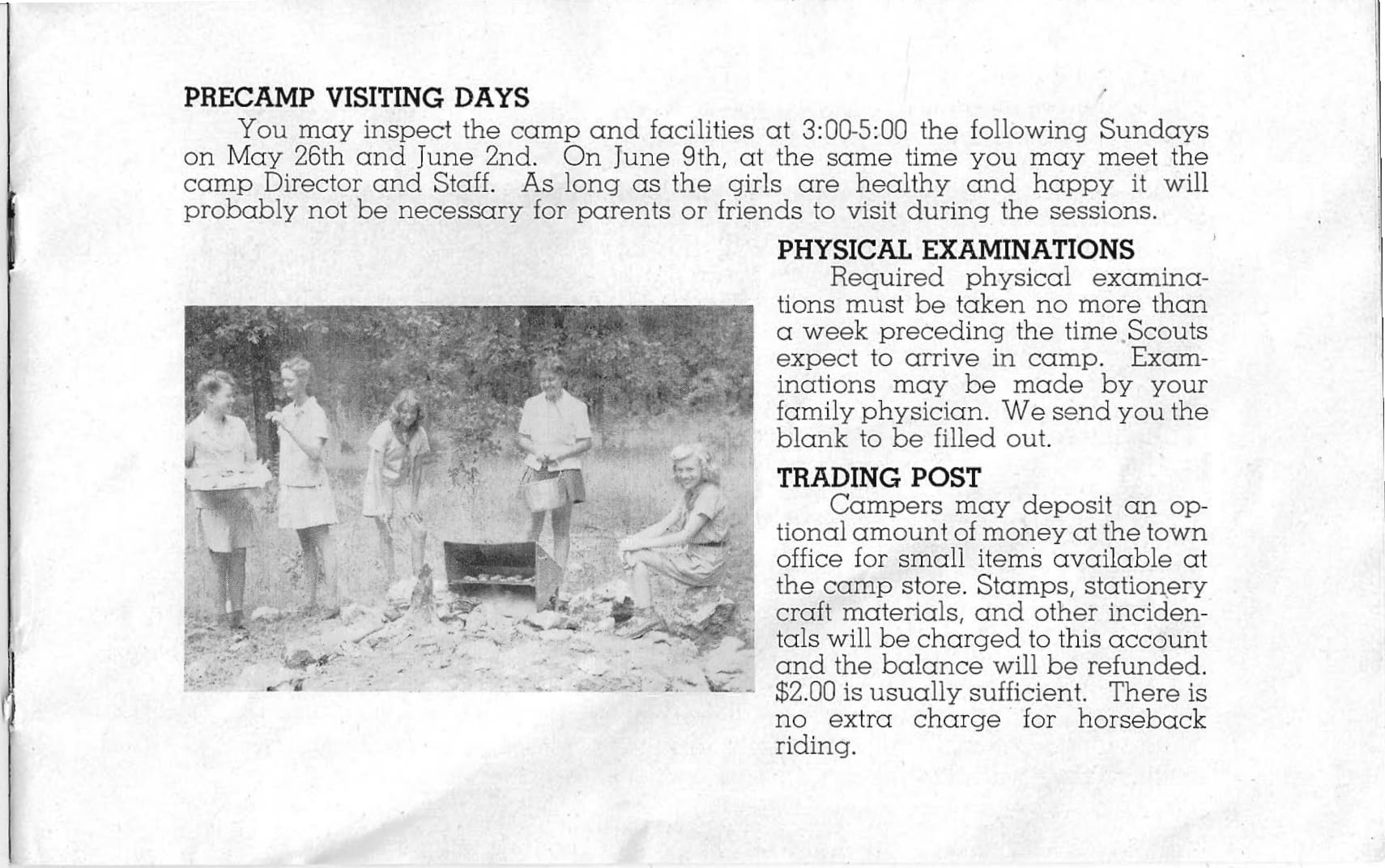 On June 12th, the night before the murders, two men in army boots were spotted behind the tents. It was the last warning sign before the terrible morning of June 14th.
(Oh, and the camp failed to inform parents that this incident had occurred or that there was a tent where the counselors view of it was obstructed. Again, nothing bad had ever happened before, but you can watch the video here to see how the one victim's mother would never have allowed her daughter to attend if she had known.)
A lot of articles like to frame the story in context of Lori Farmer sitting in her tent writing what would be her last letter home around 7:45 pm. She writes that she made some new friends and is excited for camp. But Doris Denise Milner (referred to as Denise) had a far more haunting letter home.
"Dear Mom,
I don't like camp. It's alfwl
The first day it rained.
I have three new friends named Glenda, Lori, and Michele. Michele and Lori are my roommates.
Mom, I don't want to stay at camp for two weeks. I want to come home and see Kathy and everybody.
Your loving child,
Denise Milner
Denise had already been feeling homesick when her mother had dropped her off, and had assured her she could call home and she'd pick her up as soon as she wanted. A camp counselor, Michelle Hoffman, had promised to let her call the next day, even if it was against camp policies (since calling home tended to make homesickness worse). Denise had stood out as one of the only African-American campers, which is why Hoffman had wanted to make sure she felt comfortable and would have a good time.
The night of the murders
It was a dark and stormy night....
But, really, it was, as Denise had written about in her letter. That meant that tent #7 (as referred to by the camp, the police called it #8 because they included the counselors' tent), which was already further away and slightly obstructed from the counselors' view, was even more difficult to see and they couldn't hear anything from that part of the camp. Other campers would later claim to hear screams during the night, but that fact would only come out in later reports in Oklahoma newspapers. A nearby landowner would claim to hear "quite a bit" of vehicular traffic on a road near the camp between 2:30 and 3am. (Honestly, at 3am, isn't any traffic "quite a bit"?)
During the storm, the killer cut their way into the tent, bludgeoned and raped Lori and Michelle, bound and gagged Denise, pulled her out to rape and strangle her, and then dragged the other two outside in their sleeping bags.
The camp rode out the storm, but the counselors awoke the next morning to find far more carnage than just a few fallen branches. One counselor, Carla Willhite who had been awakened around midnight by "hearing strange guttural sounds" had found nothing wrong when she went out to check at the time, but when she went out to investigate early in the morning, she found a terrible scene.
More than 100 yards from their tent, investigators discovered that the girls from the tent on the edge of camp—eight-year-old Lori Farmer, nine-year-old Michelle Guse, and 10-year-old Denise MIlner—had been beaten, raped, mutilated, and strangled. The bloodied evidence from their tent and the murderer's tools had been stuffed into the sleeping bags.
Evidence
I want to just start with the evidence left behind, because when it comes to a suspect, it gets political. There's only one main one, but it's complicated.
So let's start with what we know:
A bloody shoeprint was found inside the tent—a size 9 1/2
DNA was gathered from the scene and in recent years the victims' families have had money to have it retested, but the results have been inconclusive to create a DNA profile. Most of this evidence appears to have come from the victims.
The girls had been piled up, and a red flashlight was left on top of them. One fingerprint has been lifted from it. It's owner has not been identified.
Manhunt or Mob Mentality?
The tragedy, which remains one of the most "notorious" unsolved cases in Oklahoma history, would spark the biggest manhunt in the state's history. Girl Scouts poured out of the camp into the anxious arms of thankful parents, while over 600 volunteers poured into the woods to search for everything from the perpetrator to more evidence. Months passed with no suspect, until nearly a year later, Gene Leroy Hart was named as the main suspect.
At the time, Hart was already a fugitive and twice convicted rapist, and had been held on stolen property charges. He had been on the run for four years.
But things begin to get complicated. His fingerprints were on record and didn't match the one on the flashlight. His feet were size 11 1/2. While I could see someone wearing larger shoes to throw off police, shoving your feet into shoes two sizes two small didn't really work. (Just try wearing a shoe one size smaller and tell me how you're doing after just a few minutes of walking around, let alone trudging through the woods.)
Hart claimed he was being targeted because he was Native American (plus, the sheriff was "humiliated" since he had been at large for so long). His friends and family had been working to help keep him hidden.
"I represent the fears and doubts about any system that has the means and power to overwhelm each of us," said Hart.
It is rather convenient that a man from a group of historically ignored and abused people would be the scapegoat for the deaths of three young girls, especially since a lot of the evidence didn't fit him.
During a jury trial, Hart was found not guilty, and the case remains unsolved. Hart, however, still went to prison to serve a 300 year sentence for the kidnap and rape of two pregnant women and died of a heart attack while behind bars.
Everyone even slightly touched by the case seems to have this sense of guilty hanging over them as the years go on. Forty years of wondering if they had just done things differently, if it could have been helped, if one detail could have changed the outcome?
The camp was closed immediately following the crime, and, at first, looks super terrifying. But then it really just becomes haunting and tragic.
More images can be found at Abandoned Oklahoma.
Final Thoughts
When I first wanted to embark on this one, I had no idea how much it would affect me. It had some seriously scary elements (a literal dark and scary night) and confirms any paranoia sparked from the deep, dark woods at camp or by watching Friday the 13th. But I came across Denise's letter and my cold, cold heart broke in two. (Just kidding, it's not nearly as cold as I act like it is. I cry at everything. Or nothing. Depends on the day.) But, nonetheless, this blog makes me think that I can handle a little more than your average non-true-crime-fanatic. And her letter just took me down and I had to step away.
And easy as it would be to say that Hart did it (He has a prior history! He was hiding out in the woods!), that shoe print and fingerprint just totally throw him out. It's normally the most logical answer, and the most logical answer is not him asking someone else to hold the flashlight and him wearing shoes two sizes too small.
I also like to include some of the pop culture impact that I come across. Some think it inspired the moving Friday the 13th, but in reality the writer, Victor Miller, just thought a summer camp would be a remote and scary location where young people would realistically be to set a horror film.
But, that doesn't mean there isn't any movie adaptations. On IMDB, there's a movie set for this year (although just vaguely 2017), called Candles, where a female reporter is investigating the murder. I may be biased, but this plot sounds great. I'm curious, though, how the film would frame who the perpetraitor is.
Additionally, Murder with Friends on PopTrigger (which is now on an "indefinite hiatus" which makes me so sad) covered this story (clearly, since I used the video above). Beauty YouTuber Bella Fiori also made a video of it for her Mystery Monday video series. (Cruelty free beauty tutorials and mysteries! What's not to love?)
And, as I continue to try and pull us out of this darker place, let us remember the eternal advice of Karen Kilgariff and Georgia Hardstark on hiking:
Since this one broke my heart so much, I think I'm going to either check out a mystery (I've been watching SO MANY episodes of Unsolved Mysteries) or find something further back in time so we can have a little distance! I'd also like to give a shout out to And That's Why We Drink, a new podcast that got me through my move to a new apartment! I was planning on updating my podcast list so you can see everything I listen to, but now I have to.